Airdrie and Coatbridge Fancy Pigeon Society
30th Annual Show.
By Donald Renwick, Dumfries, Scotland.
On Saturday 4/11/00 I travelled up to Coatbridge (near Glasgow) to attend this fine show, in the Kirkwood Sports Barn. I really enjoyed myself looking at the different breeds on display, some of which I had never seen "in the flesh". This was a well organised friendly show and I can't wait to attend again next year.
National Horseman Pouter Club Results.
There was an entry of 138 Horseman at this year's show, a lot, of which I would not have minded taking home for myself!
I had the honour of stewarding for Jimmy Dolier who was judging 4 classes of blue bars. Thank you Jimmy for the opportunity to learn more about this great breed of ours.
The classes were- Class195, Blue Bar AD cocks and there were 6 birds in this class. 1st went to Joe Musleh , 2nd place went to Ramsay Jarvie and 3rd went to Joe Musleh .
Class 196 - AD hen, and there were only 3 entries in this class , probably a lot more birds at home still to moult out. The result was as follows ,1st went to the partnership of Andy Glasgow and Peter Martin. In 2nd place Joe Musleh. 3rd went to Joe Musleh.
Now the young bird classes- class 197 blue bar young cock and there were 11 birds entered but only 9 on the day. 1st place Ramsay Jarvie. 2nd place went to Phillip Tobias.3rd went to R Markham .
Class 198- blue bar young hen , with 9 hens entered in this class, and 1st , 2nd and 3rd all went to R Markham .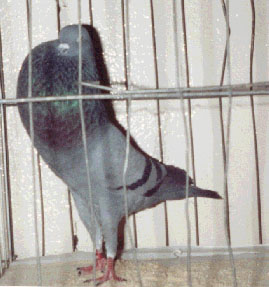 NPA 00.B7255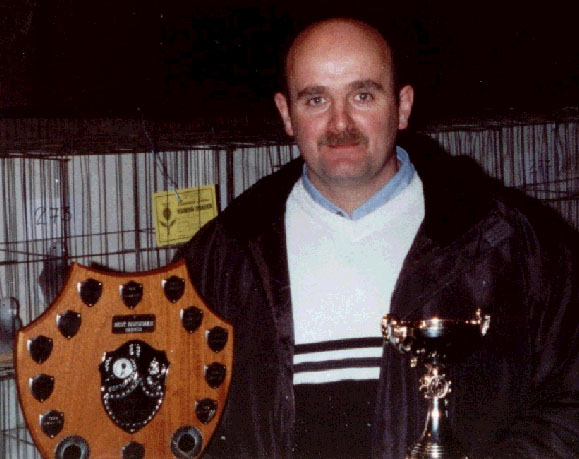 I am sorry if I have made any omissions or errors with these results, but this is my first show report and I will learn from any errors made.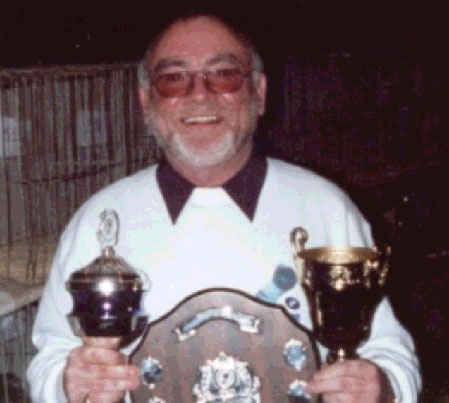 Here is Jimmy with the trophies that he won on the day. The trophy on the left is sponsored by Parkhead Doo Shop.

Best Grizzle and Best Opposite Sex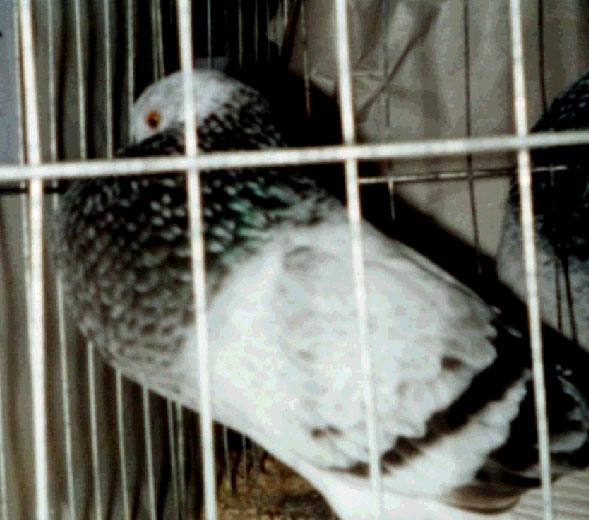 Jimmy's Grizzle Hen, NPA 97B8474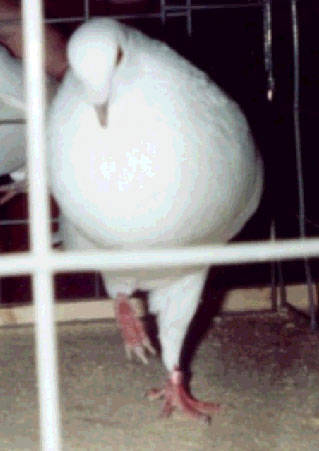 Andy Glasgow and Peter Martin's white doo NPA94.B3087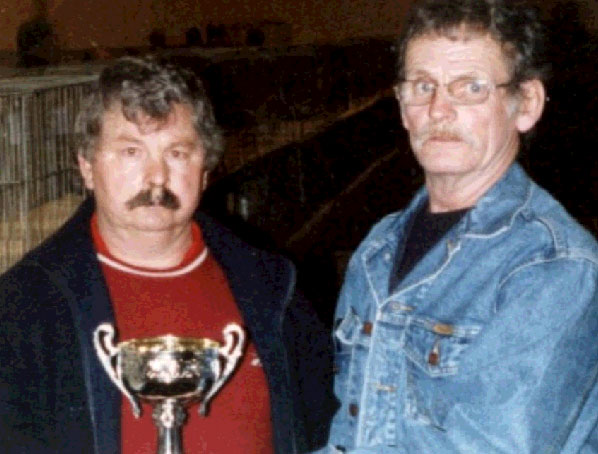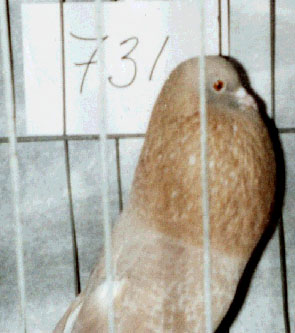 Best AOC Cheq. Andy Glasgow and Peter Martin's Orange Hen
NPA 97.B2291

Well I would just like to say what a great day out I had at the Kirkwood Sports Barn, and thanks to everyone for helping to make a grand day out. I can't wait for the next show I can attend, unfortunately I wont be able to make Doncaster on the 2/12/00 or The East Of Scotland's Millennium Show on the 9/12/00 so if anybody wants to take some pictures of the prizewinners I would be grateful.

Can't wait to see you all again at our National Horseman Pouter Club Show on the 13/01/01 and I hope to have a better camera!

Keep fleeing thae Doo's
Donald Renwick